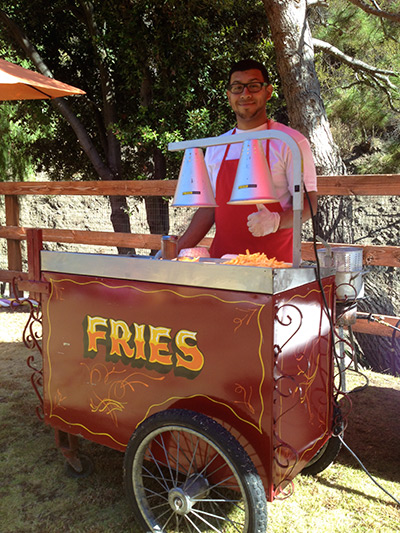 For larger parties and the convenience of having food cooked right in front of your guests – food carts are a great option.
PRICE:
Rough price estimate per cart: $700-$1,500 which is entirely dependent on how many servings of a particular food is ordered.
There is a huge menu option and the easiest way to know how many carts you need or might want is to break them into cooking type.
See available cart types below:
BBQ CART
Cooks hamburgers
sliders
hot dogs
skewers
grilled veggies
steak
salmon
Basically cooks anything grilled.
Minimum order: 60 servings
DEEP FRY CART
french fries
sweet potato fries
curly fries
onion rings
Minimum order: 50 servings
PIZZA CART
Sizzling hot pizzas on homemade freshly rolled out dough.
Veggie, cheese and pepperoni pizzas cut either into slices or made as mini personal pizzas.
Minimum order: 48 slices
GRIDDLE CART
grilled cheese sandwiches
crepes
french toast
pancakes
hash browns
potato pancakes
Minimum order: 50 servings
We also have:
Pasta Carts
Baked Potato Carts
Taco Carts
Omelet Carts
Salad Buffets
DESSERT CARTS & CONCESSION CARTS
Cotton candy cart
Frozen banana cart
Hand dipped ice cream cart
Ice cream truck treats cart
Popcorn cart
Pretzel cart
Snow cone cart
Sundae ice cream cart
DRINKS CARTS
Cappuccino/hot chocolate cart
Frozen margarita cart
Fruit smoothies cart
Lemonade cart
Milk shake cart
Prices per cart are entirely depending on how many servings of a particular food is ordered and thus pricing has to be quoted after a client decides how many servings of each food item is to be cooked on a particular cart. Please inquire for an exact quote. Quoted prices include delivery, taxes and gratuity.